// november 26, 2014 //
Today 101 years ago was the birth of one of the most trascendental Spanish architects ever, José Antonio Coderch y de Sentmenat (Barcelona, November 26, 1913 – Espolla, November 6, 1984) does.
The extensive work of Coderch has a large number of housing projects located in areas near the sea, his spatial and material solutions are also an influence for anyone interested in understanding the Mediterranean climate and its contemporary architectural interpretation and solutions.
Feliz Cumpleaños Coderch!
Hoy hace 101 años del nacimiento de uno de los arquitectos españoles más trascendentales que ha habido en la historia, José Antonio Coderch y de Sentmenat (Barcelona, 26 de noviembre de 1913 – Espolla, 6 de noviembre de 1984).
La extensa obra de Coderch cuenta con un gran número de proyectos de viviendas situadas en zonas próximas al mar, son también sus soluciones espaciales y materiales sin duda una influencia para cualquiera interesado en entender el clima mediterráneo y su interpretación arquitectónica contemporánea.
The Rozès house is a beautiful example of the ideas of Coderch and his understanding of the climate and Mediterranean location. The house is organized by a staggering and a segmentation of the volume on the ground, allowing the house to integrate with its rocky surroundings, giving it a very natural character of "belonging to the site". The sculptural monumentality of the resulting architectural object is not by chance, but an effect of a perfect understanding of the environment and the construction techniques as well as its economic feasibility, as it would have been more difficult to build a regular (one level) house on the site.
La casa Rozès es un bello ejemplo del pensamiento de Coderch así como su comprensión del clima y emplazamiento mediterráneo. La casa se organiza por medio de un escalonamiento y segmentación sobre el terreno, permitiendo a la casa integrarse con su entorno rocoso, dándole así un carácter de pertenencia al sitio totalmente natural. Esta monumentalidad  escultórica del objeto arquitectónico resultante no es obra de la casualidad, sino del perfecto entendimiento del entorno y las técnicas constructivas así como de su factibilidad económica ya que hubiera sido más difícil construir una casa regular (a un solo nivel plano) en el sitio.
For the Rozès house, Coderch based his solution on what he called the "living tradition" which could be defined as the architectural process that creates new materials and forms when necessary, but is always based on the previously learned which is always considered a treasure that has been amalgamated through our learning process.
The rooms of the house are shaped as staggered volumes to suit the topography of the site giving a poetic image to the project almost as if they were small houses on the horizon of a small town.
En la casa Rozès, Coderch se basa en la tradición constructiva y arquitectónica de lo que el llamaba la "tradición viva", la cual podríamos definir como aquella que va creando nuevos materiales y formas cuando es necesario, pero que siempre está basada en lo anteriormente aprendido lo cual es siempre considerado como un tesoro que ha sido amalgamado por medio de nuestro aprendizaje.
Las habitaciones de la casa se van configurando como volúmenes escalonados que se adaptan a la topografía del sitio dando una imagen poética al proyecto casi como si fueran pequeñas casas en el horizonte de un pueblo.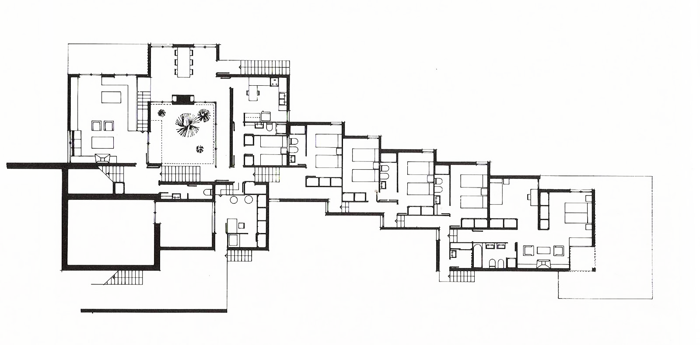 The same corridor that connects and distributes the bedrooms is not just a passage but a street in itself, with changes of direction and level with balconies that catch the light and create this poetic image that we mentioned before which refers to the facades of a Mediterranean village bounded by the sea.
Undoubtedly the work of Coderch is worthy of study by those architects (and clients) who are considering designing and building in any of both Mediterranean or arid coastal climates as in the case of Los Cabos in Baja California Sur, Mexico.
El mismo pasillo que conecta y distribuye los dormitorios no es tan sólo un paso sino que constituye una calle en sí misma, con cambios de dirección y de nivel, con balcones que captan la luz y que crean esta poética imagen que ya mencionamos la cual nos remite a las fachadas de un pueblo mediterráneo acotado por el mar.
Sin lugar a dudas la obra de Coderch es digna de ser estudiada por aquellos arquitectos (y clientes) que estén considerando proyectar y construir algo tanto en climas mediterráneos así como costeros áridos como sería el caso de Los Cabos en Baja California Sur, México.