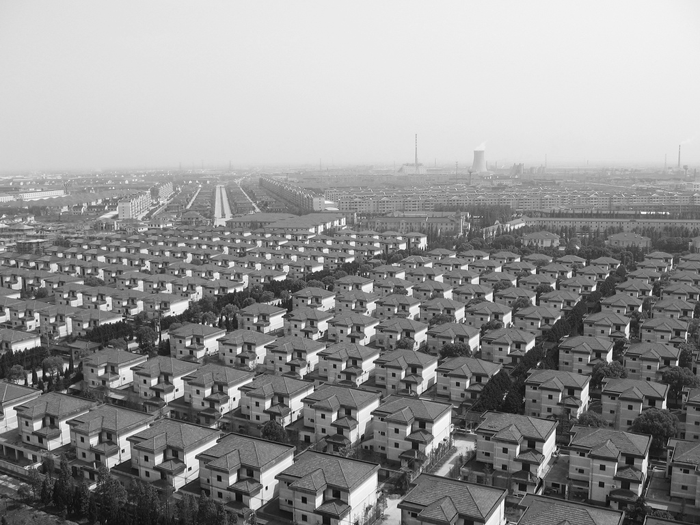 La migración poblacional del campo a las ciudades de todo el mundo es a menudo llamada la "gran urbanización". Este es un término capcioso. La migración es ciertamente de una gran escala y cantidad de personas: las Naciones Unidas estima que la población urbana total en los países en desarrollo se duplicará entre 2010 y 2050, hasta alcanzar los 5,2 billones de personas viviendo en zonas urbanas, mientras que la población rural se reducirá (tan sólo) ligeramente. Pero en realidad no es nada parecido a una situación típicamente "urbana". La gente puede estar migrando hacia las ciudades, pero la mayoría no va a terminar en los centros de las mismas. Pocas ciudades son cada vez más densas y habitadas en sus centros; entre 2001 y 2011 Chennai (ciudad en India) añadió sólo 7% más de personas, mientras que Chengalpattu (suburbio de Chennai) aumentó en un 39%. En ambos el mundo desarrollado y en vías de desarrollo, las periferias están creciendo más rápido que los núcleos. Esta no es "la gran urbanización". Es la gran suburbanización.
The shift in population from countryside to cities across the world is often called the "great urbanisation". It is a misleading term. The movement is certainly great: the United Nations reckons that the total urban population in developing countries will double between 2010 and 2050, to 5.2 billion, while the rural population will shrink slightly. But it is nothing like as obviously urban. People may be moving towards cities, but most will not end up in their centres. Few cities are getting more crowded downtown; between 2001 and 2011 Chennai added just 7% more people while Chengalpattu swelled by 39%. In developed and developing worlds, outskirts are growing faster than cores. This is not the great urbanisation. It is the great suburbanisation.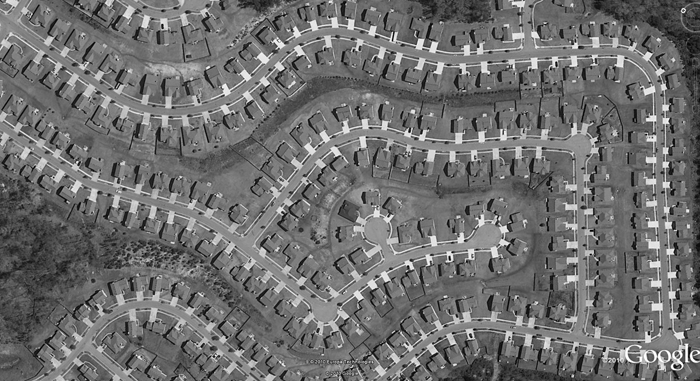 Los suburbios son lugares curiosos, no es ni aquí ni allá. Estos sitios han estado con nosotros desde la antigua Roma (la cual dio al mundo la palabra), pero no fue hasta los siglos XIX y XX que los primeros trenes y luego los autobuses y el coche los conformaron y consolidaron realmente como sitios donde desarrollar la vida humana, sitios donde muchas personas vivían, pero muy pocos trabajan. La idea de lugares con un propósito que no va más allá de proporcionar espacio para la vida doméstica impactó por igual a la gente de la ciudad y del campo como lugares peculiares e irrelevantes. En el año de 1904 al diario londinense Times al referirse al fenómeno de los suburbios le preocupaba que Londres pronto estaría rodeado de "distritos de espantosa monotonía, fealdad y apatía". Esa apatía, fealdad y monotonía, mencionaron, se filtra desde las calles perfectamente planeadas de los suburbios a las mentes de sus habitantes, dando lugar a una condición conocida como la neurosis suburbana.
Suburbs are curious places, neither here nor there. They have been around since ancient Rome (which gave the world the word), but it was not until the 19th and 20th centuries that first the train and then the bus and car brought them truly into their own—the first places in human history where many people lived but far fewer worked. The idea of places with little purpose other than providing space for domestic life struck those from city and country alike as peculiar and diminished. In 1904 the Times worried that London would be surrounded by "a district of appalling monotony, ugliness and dullness". That dullness was said to seep out of the suburbs' tidily planned streets and into the minds of their inhabitants, giving rise to a condition known as suburban neurosis.
Para Lewis Mumford, crítico urbanista estadounidense, los suburbios eran cómo escribió en 1961:
"una multitud de casas uniformes, no identificables, alineadas inflexiblemente, a distancias uniformes, en calles uniformes, en un desperdicio colectivo del espacio sin árboles, habitado por personas de la misma clase, el mismo ingreso económico, el mismo grupo de edad, que son testigos de los mismos programas y actuaciones de televisión, comen los mismos alimentos prefabricados de mal gusto, provenientes de los mismos congeladores, conformando en todo exterior e interior un respeto a un molde común."
Para los críticos como Mumford, los suburbios no eran simplemente desafortunados apéndices urbanos; eran una condición anti-urbana. Ellos permitían a una mujer desertar de la vibrante vida en la ciudad sociable, donde por lo menos conocía a su carnicero local y al encargado de su tienda local, y vivir lo que él llamó "una vida encapsulada" lejos de los demás. Los suburbios eran, los mecanismos del aislamiento.
To Lewis Mumford, an American urbanist writing in 1961, suburbia was:
"a multitude of uniform, unidentifiable houses, lined up inflexibly, at uniform distances, on uniform roads, in a treeless communal waste, inhabited by people of the same class, the same income, the same age group, witnessing the same television performances, eating the same tasteless prefabricated foods, from the same freezers, conforming in every outward and inward respect to a common mould."
To observers like Mumford, suburbs were not just unfortunate urban appendages; they were anti-urban. They enabled a woman to opt out of the vibrant, sociable city, where she at least knew her local butcher and grocer, and live what he called "an encapsulated life" apart from others. Suburbs were machineries of isolation.
Esta condición sub-urbana está más que presente en el desarrollo que ha caracterizado a el municipio de Los Cabos (compuesto por Cabo San Lucas, San José del Cabo, La Ribera, Cabo del Este, Santiago y Miraflores) desde hace más de 30 años. El cual ha sido realizado a imagen y semejanza de los suburbios norteamericanos, comunidades uniformes y amuralladas que los desarrolladores creen es el producto que más busca su mercado y masa crítica, el mercado vacacional americano.
Resultando así en una ciudad lineal extensa sin cohesión social y llena de ghettos homogéneos independientes, que minimiza la diversidad y la riqueza cultural, social y económica que la misma ella podría contener o generar.
This suburban condition has been very present in the development that characterizes the municipality of Los Cabos (conformed by Cabo San Lucas, San José del Cabo, East Cape, La Ribera, Santiago and Miraflores) for over the last 30 years. It has been built in image and likeness of the American suburbs, uniform walled communities that developers believe is the product that their target market seek for, the American vacation home market.
Thus resulting in an extensive linear city without social cohesion and full of isolated homogenous ghettos, which minimizes the cultural, social and economic diversity and the benefits that this contain or might generate.
Puedes leer más sobre esta condición urbana dando
click aquí
.