// junio 11, 2015 //
Septiembre en Junio en Los Cabos…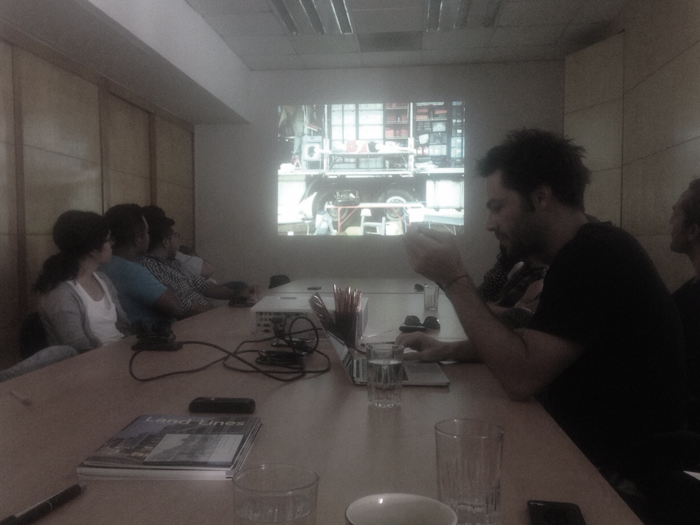 Jueves del Recuerdo con Septiembre
Hace una semana exactamente que recibíamos a nuestro amigo Damian Figueras de Septiembre en Los Cabos. Organizamos una plática informal para que Damián nos explicara el trabajo que ha estado desarrollando los últimos meses con Septiembre en México y Panama principalmente.
Curiosamente el trabajo de la oficina de Damian tiene muchos puntos en común con el trabajo que desarrollamos en a10studio, involucrando siempre temas de sustentabilidad en todo aspecto.
>Sustentabilidad social, la manera y estrategias en las cuales involucrar a los usuarios dentro del proyecto, desde la concepción hasta la construcción de los mismos, aprendiendo de ellos directamente soluciones constructivas y funcionales vernáculas que son en muchas ocasiones las más indicadas para los ambientes costeros en Latinoamérica.
>Multiescalaridad, la capacidad para que los proyectos puedan funcionar a diversas escalas simultáneamente, es decir, la misma intervención arquitectónica funciona a una escala doméstica para los usuarios para quienes está diseñada y al mismo tiempo en su conjunto funciona a la perfección dentro de su marco geográfico y de armonía con el territorio.
>Precariedad, la precariedad como detonante de la creatividad, el análisis de los factores esenciales para satisfacer y dar solución a los proyectos. Principalmente en el desarrollo de propuestas avanzadas para comunidades rurales.
Estos son algunos de los temas que platicamos informalmente con Damián y que forman parte del marco de trabajo de Septiembre como el de a10studio (entre muchos otros temas y proyectos que ambas oficinas desarrollamos).
Agradecemos al IMPLAN Los Cabos por prestarnos su espacio de reunión así como su participación en la plática y mesa redonda, a la gente de fabriK·G, a la Arq. Paola Macera, a nuestro staff de a10studio y a los representantes de la escuela de Arquitectura del ITES Los Cabos también por acompañarnos en este intercambio de ideas.
Un placer siempre recibir en nuestro pedacito de paraíso a amigos como Damián!
"… todos hemos vivido un Septiembre" -Damián Figueras
Throw back thursday to Septiembre
Exactly a week ago we received in Los Cabos the visit of our friend Damian Figueras from Septiembre. We organized an informal talk with Damian so he will explain us the work that he has been developing in recent months mainly in Mexico and Panama with his office Septiembre.
Curiously, the work of the office of Damian has a lot in common with the work we do in a10studio, always involving issues of sustainability in all aspects.
> Social sustainability, fashion and strategies which involve users in the project, from conception to build them, learning from them directly vernacular construction and functional solutions that are often more suitable for coastal environments in Latin America.
> Multi-escalaridad, the ability for projects to operate at different scales simultaneously, ie, the same architectural intervention works in a domestic scale for the users it is designed for and at the same time as a whole works perfectly within its geographical framework and in harmony with the territory.
> Precariousness, A lack of resources as a trigger for creativity, which forces the extensive analysis of key factors to meet and solve the projects. Mainly as a tool to develop advanced proposals for rural communities.
These are some of the issues we talked informally with Damian and that form part of the framework of September as also of a10studio (among many other issues and develop projects that both offices).
We thank IMPLAN Los Cabos for lending their meeting space as well as its participation in the round table discussion, as also the people of fabriK·G, the Arch. Paola Macera, the teaching staff of the ITES Los Cabos, as also our a10studio staff for joining us in this informal lecture.
Always a pleasure to receive good friends like Damia in our little piece of paradise!
"… We all have live a September" -Damian Figueras