// july 9, 2014 //
Clients often imagine what kind of house they want, and then they commit with an architect to the process of designing and building their home; but very few know that this is just the starting point of actually "living" their dream house. On this ocasion we want to share with you this text by the great portuguese architect Alvaro Siza, where he describes how it is to (really) live a house.
TO LIVE A HOUSE, Alvaro Siza
I've never been able to build a house, a real house. I am not referring to designing and building houses, minor thing that I still get to do, I do not know if correctly.
The idea that I have of a house is that of a complicated machine, where every day something breaks down: a bulb, faucet, drain, lock, hinge, jack, and then the heater, the stove, refrigerator, television or video; and the washing machine, or the fuses, springs drapes, or the safety lock. The drawers get stuck, the carpets and upholstery of the living room sofa breaks. All shirts, socks, sheets, handkerchiefs, napkins and tablecloths, tea towels, all lie broken by the ironing board, whose protective fabric also has a shabby appearance. There are roof leaks (the neighbor pipes breaks down, or a roof tile breaks or the insulation fabric comes off). And the gutters are full of dry leaves, the copings loose or rotten. When there is a garden, the grass grows menacingly, and all the time in the world is insufficient to dominate the wrath of nature; fallen petals and legions of ants invade the doorways, there are always dead birds, mice and cats. The chlorine in the pool is exhausted and the sewage breaks; no cleaner can restore the transparency of water or absorb the legs of insects thin as hairs. The granite of floors or paths gets covered with a dangerous sludge, varnish darkens, layers of paint peel off and expose the knots of unprotected wood. Any old people's finger can dig a hole in the carpentries, the windows are broken, the putty has fallen, and the silicone off from surfaces, there is mold in the cabinets and drawers, and cockroaches resist to insecticides. Whenever we seek the necessary can the oil runs out, wooden boards are detached, the tiles are off, first one, then the whole wall. And if it were only that!
To live in a house, a real house, is a full-time job. The homeowner is both firefighter on duty (the houses often burn or flood, or gas escapes without noise, and usually explodes); is a nurse (have you never nailed a wood chip from the handrail deep into the root of your nails?) and a lifeguard. He (or she) masters all the arts and professions, specializes in physics, in chemistry, and is a lawyer – or does not survive. Is a telephonist and receptionist on duty, he phones at every moment, looking for plumbers, carpenters, masons, electricians, and then opens them the main door, or the service one, accompanying them with servility; because on them it depends, but nothing prevents the need for a complete office that also declines. And then you need to sharpen the knife blades, purchase accessories, grease, sort, dehumidify; the dryer fails immediately, then the air conditioning, and the radiators.
However, nothing surpasses the torture of books that move by themselves mysteriously, disorganizing in purpose attracting dust on their backs and magnetic thickness. The dust enters through the top of pages, tiny bugs eat them with an indescribable noise; pages stick, the leather stains, raindrops coming out of vases with dying flowers drip on the illustrations, cross the fabrics in a raging dissolution process. The welcome mat at the back door comes undone and there is a deep crack in the wood, the leaves of reed brooms unattached, precious objects are broken, the boards of tables and furniture open in terrifying bursts, the water tank doesn't work, the chimney gets full of soot -burns any day-, the Great Grandmother glasses break in the sideboard, green wine bottles with almost no sugar give life to burst, corks pop, or rot, exactly the most appreciated harvest loses quality. When for the first time a light bulb fails and is not immediately replaced, the whole house is left without light, which inevitably happens on a Saturday, while at the same time a tire of the only car available bursts.
Thats why I consider heroic to own, maintain and renovate a house. In my opinion, there should exist The Order of House Curators, where each and every year, a corresponding honor mention and an elevated money prize would be awarded.
But when that effort of maintenance is not apparent, when the healthy smell of wax in a house, properly ventilated, mixes with the scent of flowers in the garden, when in it us -her visitors irresponsibly inattentive to the instants of happiness-, we feel happy, forgetting our anguish of nomadic barbarians, then the only possible medal is gratitude, the silent applause; a moment of pause, looking around us, immersing us in a golden atmosphere of an autumn interior, at the end of the day.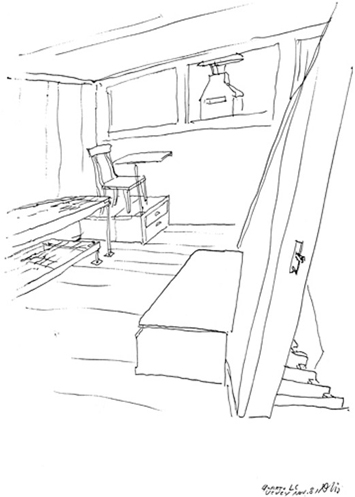 Le Corbusier room at Vevey, Alvaro Siza, 1981.
Le Corbusier mother's house in Vevey, Alvaro Siza, 1981.
VIVIR UNA CASA. Álvaro Siza
Nunca he sido capaz de construir una casa, una auténtica casa. No me refiero a proyectar y construir casas, cosa menor que todavía consigo hacer, no sé si acertadamente.
La idea que tengo de una casa es la de una máquina complicada, en la que cada día se avería alguna cosa: bombilla, grifo, desagüe, cerradura, bisagra, enchufe, y luego el termo, estufa, frigorífico, televisión o vídeo; y la lavadora, o los fusibles, los muelles de las cortinas, la cerradura de seguridad. Los cajones se atascan, se rompen las alfombras y la tapicería del sofá del salón. Todas las camisas, calcetines, sábanas, pañuelos, servilletas y manteles, paños de cocina, yacen rotos junto a la tabla de planchar, cuya tela de protección presenta un aspecto lamentable. Igualmente, hay goteras en el techo (se averían las tuberías del vecino, o se rompe una teja, o se despega la tela). Y los canalones están llenos de hojas secas, las albardillas sueltas o podridas. Cuando hay jardín, el césped crece amenazadoramente, todo el tiempo del mundo es insuficiente para dominar la ira de la naturaleza; pétalos caídos y legiones de hormigas invaden los umbrales de las puertas, hay siempre cadáveres de pájaros, de ratones y de gatos. El cloro de la piscina se agota, se avería la depuradora; ningún aspirador restituye la transparencia de las aguas o absorbe las patas de los insectos, finas como pelos. El granito de las losas o de los caminos se cubre de un peligrosísimo lodo, el barniz se oscurece, las capas de pintura se desprenden y dejan al descubierto los nudos de una madera sin protección. Cualquier dedo de anciano puede agujerear las carpinterías, los cristales están rotos, se ha caído la masilla, la silicona se desprende de las superficies, hay moho en los armarios y en los cajones, las cucarachas resisten a los insecticidas. Siempre se acaba el aceite cuando buscamos la lata necesaria, las juntas de madera se despegan, se desprenden los azulejos, primero uno, luego la pared entera. ¡Y si sólo fuera eso!
Vivir en una casa, en una casa auténtica, es oficio a jornada completa. El dueño de la casa es al mismo tiempo bombero de guardia (las casas arden con frecuencia, o se inundan, o el gas se escapa sin ruido, y generalmente explota); es un enfermero (¿Nunca se han clavado astillas de madera del pasamanos profundamente en la raíz de las uñas?); y un socorrista. Domina todas las artes y profesiones, es especialista en física, en química, es jurista –o no sobrevive–. Es telefonista de guardia y recepcionista, telefonea a cada momento, buscando fontaneros, carpinteros, albañiles, electricistas, y luego les abre la puerta de entrada, o la de servicio, acompañándoles con servilismo; pues de ellos depende, aunque nada impida la necesidad de una oficina completa, que igualmente se va degradando. Y entonces es necesario afilar hojas de cuchillo, comprar accesorios, engrasar, reordenar, deshumidificar; inmediatamente se avería el secador, y después el aire acondicionado, los radiadores.
Sin embargo, nada sobrepasa la tortura de los libros que se mueven misteriosa y autónomamente, desordenándose a propósito atrayendo el polvo en sus lomos y su grosor magnético. El polvo penetra por el borde superior de las hojas, pequeñísimos bichos las comen con un ruido indescriptible; las hojas se pegan, el cuero se mancha, gotas de agua salidas de jarrones con flores a punto de morir se escurren sobre las ilustraciones, atraviesan las telas en un furioso proceso de disolución. El felpudo de la puerta de entrada se deshace y hay un surco profundo en la madera, las hojas de las escobas de junco se desprenden, se rompen objetos preciosos, las tablas de las mesas y las de los muebles se abren en estallidos aterradores, no funciona la cisterna, la chimenea se llena de hollín –cualquier día arde–, en la cristalería se rompen los vasos de la bisabuela, revientan las botellas de vino verde al que un casi nada de azúcar da vida, saltan los corchos, o se pudren, pierde calidad precisamente la cosecha más apreciada. Cuando por primera vez no se sustituye de inmediato una bombilla fundida, toda la casa se queda sin luz, lo que inevitablemente sucede un sábado, al mismo tiempo que revienta un neumático del único coche disponible.
Por eso, considero heroico poseer, mantener y renovar una casa. En mi opinión, debería existir la Orden de Curadores de Casas y todos y cada uno de los años se adjudicaría la correspondiente mención honorífica y un elevado premio pecuniario.
Pero cuando ese esfuerzo de mantenimiento no se hace aparente, cuando el saludable olor a cera de una casa, por otro lado bien ventilada, se mezcla con el perfume de las flores del jardín, cuando en ella nosotros –visitantes irresponsablemente poco atentos a los instantes de felicidad– nos sentimos felices, olvidando nuestras angustias de nómadas bárbaros, entonces la única medalla posible es la gratitud, el silencioso aplauso; un momento de pausa, observando a nuestro alrededor, sumergiéndonos en la atmósfera dorada de un interior de otoño, al final del día.