// November 20, 2017 //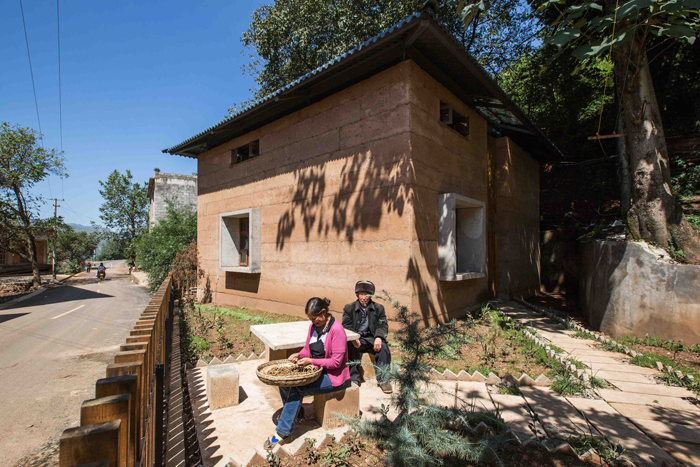 When we start talking with our clients about the benefits of Rammed Earth constructions, invariably many questions arise, being always the main concerns the seismic resistance as well as the affectation that Rammed Earth buildings could have with the rains (water), in short: 
How durable is the Rammed Earth?.
My answer most of the times is: "In conservative numbers and well maintained, lasts about a thousand years as is the case of the Alhambra in Granada, or even more, about two thousand as is the case of the Great Wall China ", although it has several sections built with different techniques, compacted earth is one of its main construction systems of the Great Wall of China. The Chinese found 2,000 years ago that in labour creation and resource management, earth could not be bettered..
Cuando comenzamos a platicar con nuestros clientes sobre los beneficios de las construcciones de tierra compactada, invariablemente les surgen muchas (y naturales) interrogantes, siendo siempre las principales preocupaciones tanto la resistencia sísmica como la afectación que podría tener con las lluvias o el agua, en pocas palabras: ¿que tan durable es la tierra compactada?.
Mi respuesta la mayor parte de las veces es: "En números conservadores y con buen mantenimiento, dura alrededor de unos mil años como es el caso de la Alhambra en Granada o incluso hasta más de dos mil, como es el caso de la Gran Muralla China", que si bien la Gran Muralla tiene varias secciones construidas con diferentes técnicas, la tierra compactada es uno de sus principales sistemas constructivos. Los chinos se dieron cuenta hace 2.000 años que en la capacitación de mano de obra y la gestión de los recursos, la tierra no podía ser mejor como material de construcción.
That is why, for example, after the devastation left in September 2014 by
Hurricane Odile
in Los Cabos, we proposed a housing model for hurricane victims in Rammed Earth. Today, this model of social, affordable, ecological and durable housing is known as
Casa O
, and since 2015 it serves its proud owners in Cabo San Lucas.
Es por eso por ejemplo que tras la devastación dejada en Septiembre del 2014 por el huracán Odile en Los Cabos, propusimos un modelo de vivienda para damnificados del huracán en Tierra Compactada. Hoy, ese modelo de vivienda social, asequible, ecológica y durable la conocemos como la Casa O, y desde 2015 sirve a sus orgullosos propietarios en Cabo San Lucas.
The very same year, in 2014, but in China, in the Yunnan region to be more specific, there was a 6.1 Richter scale earthquake, known today as the Ludian earthquake.
This event caused that most of the buildings in the area built with earth in a vernacular manner were destroyed, in similarity to the affectations that rural communities of Mexico had during the earthquakes of this 2017.
Many of the victims of the earthquake of Yunnan chose to rebuild their houses with cement block, also in an example similar to what is happening today in the Mexican states of Chiapas, Guerrero and Morelos, where local authorities (many without real knowledge or experience of the viability and / or benefits of natural building systems) have put pressure on the inhabitants of the communities to use cement block to rebuilt. However, as in the case of the victims of Ludian, the use of this system will make their constructions expensive to the extent that they can not afford the cost of reconstruction. Or at best, having to accept a smaller house at a higher cost which surely will not meet the current needs of these families.
En ese mismo año, en 2014, pero en China, en la región de Yunnan para ser más específicos, se vivió un terremoto de 6.1 grados richter, conocido hoy como el terremoto de Ludian.
Dicho evento causó que la mayoría de los edificios de la zona construidos con tierra de manera vernácula fueran destruidos. En un evento con similitud paralela a las afectaciones que se han tenido en las comunidades rurales de México durante los sismos de este 2017.
Muchos de los damnificados del terremoto de Yunnan optaron por reconstruir sus casas con block de cemento, también en un ejemplo similar a lo que está sucediendo hoy día en los estados Mexicanos de Chiapas, Guerrero y Morelos, donde las autoridades locales (muchos sin real conocimiento o experiencia de la viabilidad y/o beneficios de los sistemas constructivos naturales), han presionado a los habitantes de las comunidades rurales a preferir que se les reconstruya utilizando el block de cemento. Sin embargo, así como en el caso de los damnificados de Ludian, el uso de dicho sistema encarecerá sus construcciones al grado de no poder costear el costo de la reconstrucción. O en el mejor de los casos, teniendo que aceptar una vivienda de menor tamaño y a un mayor costo lo cual seguramente no va a satisfacer las necesidades actuales de dichas familias.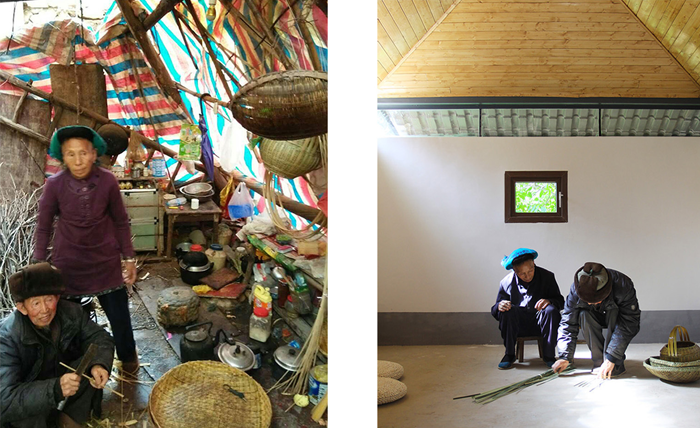 In the Ludian example, a joint effort of the Chinese University of Hong Kong with the Kunming University of Science and Technology, has built a house (pilot project) for a couple of older adults, where Stabilized Rammed Earth is used as a construction system.
This house was just awarded last week as the Best Building of the Year 2017 in the World Architecture Festival.
The project, like our Casa O (awarded in 2016 at the Venice Biennial), was looking to provide its inhabitants with an alternative of safe, economic, comfortable and sustainable reconstruction, which could pay, live, and even inherit, both physically and in knowledge to other generations.
En el ejemplo de Ludian, un esfuerzo conjunto de las Universidad China de Hong Kong con la Universidad Kunming de ciencia y tecnología, ha construido una casa (proyecto piloto) para una pareja de adultos mayores, donde se utiliza la tierra compactada estabilizada como sistema constructivo.


Esta casa, ha sido premiado la semana pasada como el Mejor Edificio del Año 2017 en el W.A.F.


El proyecto, al igual que lo que buscaba nuestra Casa O (premiada en 2016 en la Bienal de Venecia), era proveer a sus habitantes de una alternativa de reconstrucción segura, económica, confortable y sustentable, la cual pudieran pagar, vivir, e incluso heredar, tanto físicamente como en conocimientos a otras generaciones.
Stabilized Rammed Earth, unlike the vernacular processes of construction with earth, improves its seismic performance by adding (among other aggregates) gravel, sands, and a minimum proportion of cement to the traditional mixture of earth that is used in vernacular techniques. Likewise, the integral use of reinforcing steel in the wall (rods) optimizes its structural performance and makes it practically earthquake proof. The quality of materials, labor and tools is improved to generate an economic construction with the highest standards of structural, thermal and comfort (not to mention the aesthetic beauty of Rammed Earth walls) performance.
La Tierra Compactada Estabilizada, a diferencia de los procesos vernáculos de construcción con tierra, mejora su desempeño sísmico al agregar (entre otros agregados) gravillas, arenas, y una proporción mínima de cemento a la mezcla tradicional de tierra que se usa en las técnicas vernáculas. Así mismo el uso integral de acero de refuerzo en el muro (varillas) optimiza su desempeño estructural y la vuelve prácticamente a prueba de sismos. La calidad de los materiales, de la mano de obra y de las herramientas se mejora para poder generar una construcción económica con los más altos estándares de desempeño estructural, térmico y de comfort (sin mencionar la belleza estética que tienen los muros de Tierra Compactada).