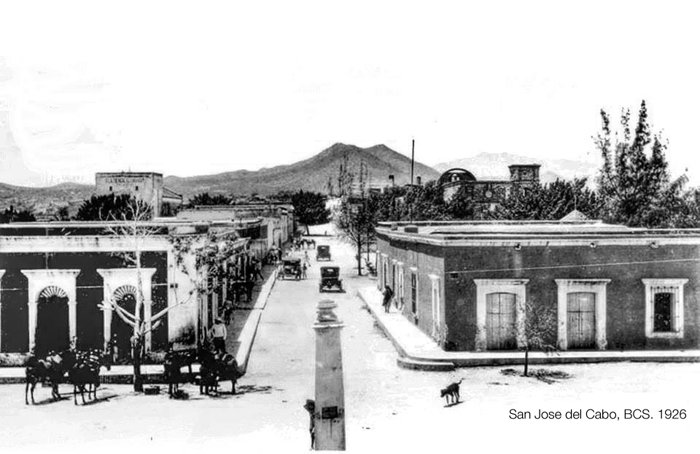 Como parte de nuestra constante investigación y estudio del contexto natural de la Península de Baja California, el estudio de la evolución histórica del paisaje ha sido siempre crucial. Tratamos de encontrar y comprender la historia de los usos del agua y sus técnicas en relación a la geografía y los patrones culturales del Sur de Baja California -Como Identificar como han sido incorporados los territorios y paisajes, así como la eficiencia en el aprovechamiento del territorio en una época de construcción artificial de los ecosistemas. Mediante esto, el dominio y el alcance de la disciplina arquitectónica se podrá extender, lo que nos permitirá lecturas trans-disciplinarias.
Creemos que el proyecto metropolitano, la construcción de la ciudad, debe desarrollarse a partir de una comprensión del entorno natural como fuente de energía limitada y directamente relacionada con los poderes de la ciudad.
En esta ocasión queremos compartir con ustedes una antigua película a color  (1943), que muestra el paisaje y el estilo de vida de los territorios de Baja California hace 50 años, una vista rápida de Ensenada a Cabo San Lucas, con paradas en los áridos pueblos de la bahía de Magdalena, Tortuga, y los fabulosos viñedos de Santo Tomás.
As part of our continuous research and study of the natural environment and context of the Baja Peninsula, the study of the evolution of the landscape has always been crucial. We are trying to find and know the history of water uses and techniques in relation to the geography of South Baja -identifying cultural patterns with which the territory and landscapes have been built- the real story of the arroyos and creeks, and the degree of efficiency we been using the territory in a time of artificial ecosystem construction. So the domain and scope of the architecture discipline can be extended, allowing trans disciplinary readings.
We believe the metropolitan project, the construction of the city, must develop an understanding of the natural environment as a limited energy resource directly related to the powers of the city.
In this occasion we share with you a rare old color film (supposedly from 1943) that shows the landscape and lifestyle of the Baja California territories, a quick view from Ensenada to Cabo San Lucas, with stops at the waterless villages of Magdalena Bay, Tortuga Bay, and the fabulous vineyards of Santo Tomás.