// july 28, 2015 //
Poverty Hack
Last week I had the opportunity to be invited by
GrassRoots Global
to participate in an interesting event in the city of Denver, Colorado.
The event was named the "Poverty Hackathon" and was organized by the Posner Center as part of the activities within the framework of the Biennial of the Americas.  The easiest way to describe what a hackathon is is to define it as an event that through short and intense two-day sessions aims to generate and brainstorm solutions to specific problems and projects.  In our case, the hackathon would help mitigate poverty (and the consequences of it) in Latin America and developing countries through three specific challenges.
El Poverty Hack del Posner Center

La semana pasada tuve la oportunidad de ser invitado por GrassRoots Global a participar en un evento muy interesante en la ciudad de Denver, Colorado.
El evento llevaba por nombre "poverty hackaton" y era organizado por el Posner Center como parte de las actividades dentro del marco de la Biennal de las Americas. La manera más fácil de describir lo que es un hackaton sería definirlo como un evento que busca mediante un par de sesiones intensas (dos días), generar una lluvia de ideas para buscar soluciones a problemas y proyectos específicos que en este caso ayudarían a mitigar la pobreza (y las consecuencias de ella) en latinoamerica y países en desarrollo, mediante 3 retos específicos.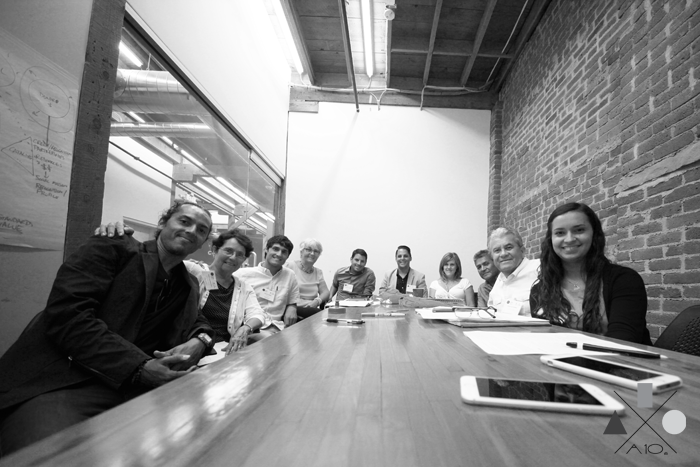 Within the hackathon, the challenges were as follows:
1. CU PERU, Health Communications:  an initiative to improve health care in remote regions of the Napo River in Peru, where some villages are accessible by boat only and where travel to the nearest clinic can take up to five hours.
2. IDE, H2O PUMP SOLAR FINANCING MODEL:  a project that aims to provide farmers in developing countries with a solar-powered irrigation pumping system.
3. GGDF, IRREGULAR URBAN HOUSING:  This was the project I was invited to participate in.  It seeks new ideas and innovative solutions to abate the problem of housing for people established in risk areas in Los Cabos, Baja California Sur, Mexico.
Within the excellent group of people I had the pleasure to work with that couple of days, different ideas and ways to understand the complexity of the housing problem in Los Cabos arised.  Among many of the ideas that we discussed, we questioned us and tried to respond in an innovative way to the problem, providing viable ways and solutions in just 48 hours.
Soon we recognized that the problem of housing and especially the irregular housing in Los Cabos is due to an issue of land ownership.  The government has the economic means to support building housing in Los Cabos, but the credits and support are not assigned if those who expect the support do not own the land.  In the case of Los Cabos particularly, most land prone to development and housing expansion is in possession of the ejido – a collective ownership figure emerged after the revolution to empower farmers and allow them to live off the land.  But as beautiful and utopian this sounds, current reality of the ejidos is another, their lifestyle and the means of agricultural production, not to mention natural patterns, land and ecosystems that formerly governed, have radically changed.  Therefore, now more than ever, real estate pressure exists in all available land for development in Los Cabos, which blows up the cost of land making it excessive and unattainable for a large percentage of the population with limited resources and / or seeking to establish themselves in an area where they will find security for his family and a possible better future for them.
Dentro del hackaton, los retos eran los siguientes:

1. CU PERU: HEALTH COMMUNICATIONS, una iniciativa que busca mejorar la atención médica en las regiones remotas del Río Napo en Perú, poblados accesibles solamente por medio de lanchas y donde desplazarse hasta el sitio de la clínica más cercana puede tomar hasta 5 horas en bote.
2. IDE: SOLAR H2O PUMP FINANCING MODEL, Un proyecto que busca dotar a los agricultores y granjeros en países emergentes con un sistema de bombeo de riego propulsado por energía solar.
3. GGDF: IRREGULAR URBAN HOUSING, Que era el proyecto del cual yo formé parte y que buscaba encontrar soluciones para abatir el problema de vivienda y de personas establecidas en zonas de riesgo en el municipio de Los Cabos Baja California Sur, Mexico.
Dentro de el excelente grupo de personas donde me tocó trabajar se exploraron diferentes ideas y caminos para poder comprender la complejidad del problema de vivienda en Los Cabos, entre algunas de tantas ideas que se abordaron nos questionamos y tratamos de responder de manera innovadora al problema tratando de encontrar caminos viables y soluciones en tan solo 48 horas de trabajo.
Pronto reconocimos que el problema de vivienda y principalmente el de la vivienda irregular en Los Cabos se debe a un tema de propiedad de la tierra, es decir, los apoyos gubernamentales para construir vivienda existen, pero estos no son asignados si aquel que espera recibir el apoyo no es propietario de la tierra, y en el caso de Los Cabos particularmente, la mayoría de la tierra propensa a desarrollo y expansión habitacional esta en posesión de el ejido -una figura de propiedad colectiva surgida después de la revolución para empoderar a los campesinos y permitir que vivieran de la tierra. Sin embargo por más bello y utópico que esto sonara la realidad actual de los ejidos es otra, se ha transformado tanto su estilo de vida como los medios de producción agrícola sin mencionar los patrones naturales, territoriales y ecosistemas que antes los regían. Por ende, ahora más que nunca las presiones urbanas y sobre todo inmobiliarias existentes en Los Cabos ejercen presión mayúsculas sobre los ejidos, lo cual orilla a que el costo de la tierra sea excesivo e inalcanzable para un gran porcentaje de la población con recursos limitados y/o que buscan establecerse en una zona donde encuentran seguridad para su familia así como un posible mejor futuro para los mismos.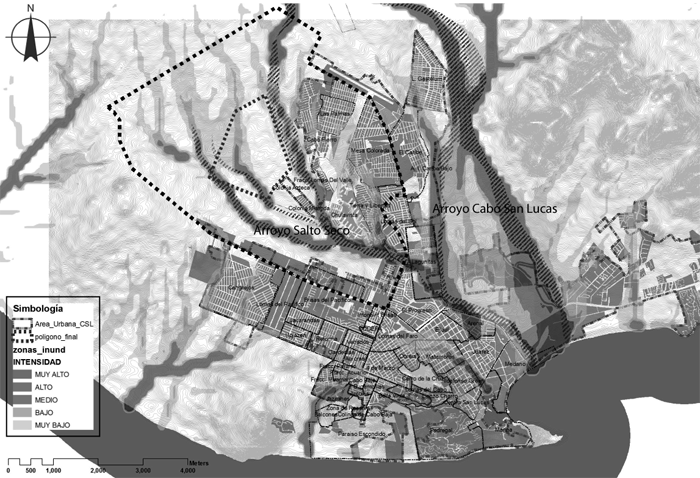 At the same time, landowners can't find attractive models to develop their land or actively join the economy of the community through the provision of land.  Ways to develop their land and enable them to an exploitation of the property, through any land business (tourism, cultural, agricultural, permaculture, etc.) are also not available. Meanwhile, the government is hamstrung without the possibility to help through state and existing federal resources to those who do not have the land and seek to settle legally in the city and its economy.  This situation creates a problem to the municipality because these people are pushed to settle on federal land in risk areas where day to day, life and the future of these families are at the mercy of any incident and / or natural phenomenon that can wipe off their future.
After a couple of days thinking about the task and proposing viable solutions, we were selected as one of the 3 finalists of the hackathon through our proposed model that seeks to innovate within the theme of land ownership.  We are re-defining the role of each member of this problem (landowners, government, people live in areas at risk), swapping the classic paternalistic government model (where usually government purchases the land and then gives houses for almost nothing to relocated families) for an economic and business model in which the wants and needs of each become the potential and gain of the other, a co-dependency model beneficial to all involved.
Al mismo tiempo, los terratenientes, no encuentran modelos atractivos suficientes para desarrollar su tierra o incorporarse activamente a la economía de la comunidad mediante la facilitación de tierra y/o maneras de poder urbanizar sus terrenos y habilitarlos para explotación de tipo inmobiliario y/o por que no, de cualquier otro tipo de negocio (turístico, cultural, agricola, permacultural, etc).


Mientras tanto el gobierno se encuentra atado de manos sin posibilidad de ayudar por medio de recursos gubernamentales estatales y/o federales existentes a aquellos que no poseen la tierra y que buscan una asentarse regularmente en el municipio y en su economía. Al mismo tiempo esto le genera un gran problema al municipio ya que todos estas personas se ven orilladas a establecerse en terrenos federales en zonas de riesgo donde día a día se juegan la vida y el futuro de su familia a merced de cualquier incidencia y/o fenómeno natural que los pueda marcar de por vida o simplemente borrar de la faz de la tierra.


Después de un par de días pensando en el proyecto y proponiendo soluciones viables, fuimos seleccionados como uno de los 3 proyectos finalistas del hackaton al proponer un modelo que busca innovar dentro del tema de posesión de la tierra. Replanteamos el papel que juega cada integrante de este problema (terratenientes, gobierno, personas asentadas en zonas de riesgo), permutando el modelo clásico paternalista de el gobierno (que normalmente compra la tierra y la otorga -regala- a personas reubicadas), por un modelo económico y de negocio, en el cual las carencias y necesidades de cada uno se convierten en el potencial y ganancia de los demás en un modelo de co-dependencia benéfica para todos los involucrados.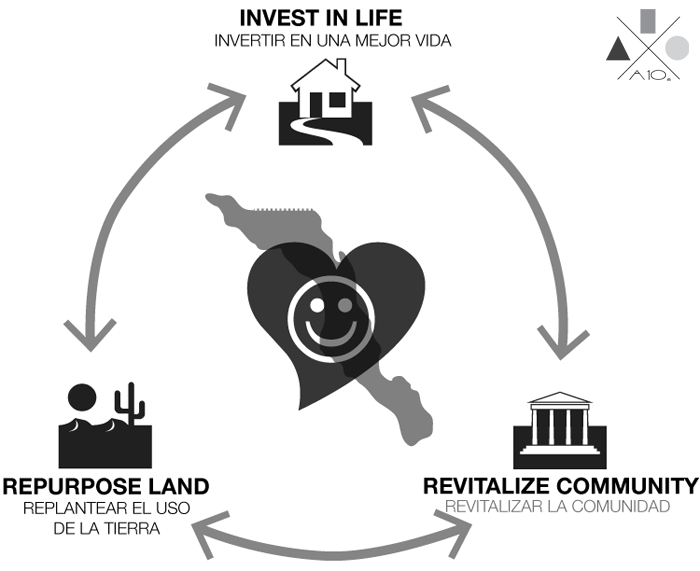 We propose a model in which the landlord rents his land for 20-25 years, during which he/she will get a monthly payment for a fraction of what the land costs.  This way the government "acquires" land where people can relocate from risk areas and generate community in areas which are already connected to the city, but are still geographically close to risk areas where these families are now settled, to avoid radical de-location.   The landlord also achieves economic benefit through the urbanization (by the government) of their land that in the future will reassess the land value.  A model in which the municipality acts as administrator of the territory, urbanize it and brings (with municipal, state and federal resources) the means necessary for the social, cultural and economic development of families relocated, so the government has the opportunity to develop a cohesive community that allows expansion of the city and relocate families established in risk areas.  A proposal that involves society as economic engine and as a catalyst for entrepreneurial micro-economies through the implementation of alternative income through family-owned sustainable businesses which will allow them to diversify both their personal and city finances, eliminating the dependence of the tourism industry as the single economic engine for the development of the city.
At the end of the event the winning project was for CU Peru, but we are very satisfied with the ideas generated and with all the energy the participants put into solving the GGDF: UNEVEN URBAN HOUSING challenge.  Certainly this event generated many ideas and initiatives that with the help and work of organizations such as GGDF / Cabo Hurricane Fund, CAPALab, local and state governments and many others we will seek to develop, present and implement them towards improving the life prospects of low-income families in Los Cabos.
Proponemos un modelo en el cual el terrateniente alquile su tierra por un periodo de 20 a 25 años durante el cual obtendrá un alquiler por ella, mientras tanto, el gobierno adquiere tierra donde puede reubicar a muchas personas de las zonas de riesgo y generar comunidad en una zona conectada a la ciudad y también geográficamente cercana a las zonas de riesgo donde estas familias están ya asentadas, y evitar una deslocalización radical. El terrateniente además del beneficio económico logra que su tierra sea urbanizada lo cual en un futuro revalorizará el costo de su tierra. Un modelo en el cual el municipio actúa como administrador del territorio, lo urbaniza y aporta (con recursos de asignación municipal, estatal y federal) los medios necesarios para el desarrollo social, cultural y económico de las familias reubicadas, así también el gobierno tiene la oportunidad de desarrollar una comunidad que permita la expansión cohesiva de la ciudad y elimine tener familias establecidas en zonas de riesgo. Una propuesta que involucra a la sociedad como motor económicos y como catalizador de microeconomías empresariales mediante la implementación de negocios alternativos al ingreso primario familiar el cual les permitirá diversificar tanto su economía personal como la de la ciudad, eliminando la mono dependencia de la industria turística como único motor económico de la ciudad.
Al final del evento el proyecto ganador fue el del reto para CU Perú, pero muy satisfechos quedamos con las ideas generadas y con toda la energía que los participantes del reto GGDF: IRREGULAR URBAN HOUSING pusieron en la resolución del problema, sin duda de este evento rescataremos muchas ideas e iniciativas que junto con organismos como GGDF / Cabo Hurricane Fund, el colectivo CAPALab, y el gobierno local y estatal buscaremos madurarlas, presentarlas e implementarlas en pro de mejoramiento de las perspectivas de vida de las familias de bajos recursos de Los Cabos.