There are many advantages to building with a material like rammed earth. These advantages will allow us to naturally include in our construction resistance and durability, temperature control, noise reduction, extremely low maintenance, resistance to fire, and pests. Besides that, building with rammed earth will help us generate a healthy indoor environment with the advantage of its beauty, as well as the pleasure of building with eco-friendly material.
Some of the main advantages of building with rammed earth:
Hay muchas ventajas al construir con un material como la tierra apisonada. Estas ventajas nos permitirán de manera natural incluir en nuestra construcción resistencia y durabilidad, control de temperatura, reducción de ruido, mantenimiento extremadamente bajo, resistencia al fuego, y a las plagas. Además de esto, generaremos un ambiente interior sano con la ventaja de su belleza y el beneplácito de construir con un material ecológico y amigable con el medio ambiente.
A continuación explicaremos algunas de sus principales ventajas:
1. Strong and Durable Construction Material
As researches and studies by the top universities in the world have shown (and centuries of use around the world), rammed earth is exceptionally durable and resistant to natural elements and friendly with its environment. At a10 studio, we have almost 15 years of practical experience working with rammed earth in the Los Cabos and Baja California Sur area. Based on our experience, coupled with new technologies and backed by scientific evidence, with a strong focus on quality control, building with rammed earth guarantees the maximum resistance and durability of each project that we build.
1. Un material de construcción fuerte y duradero
Como han demostrado las investigaciones y estudios en las mejores universidades del mundo (y siglos de uso en todo el mundo), la tierra apisonada es excepcionalmente duradera y resistente a los elementos naturales y amigable con su medio ambiente. En a10 studio, tenemos casi 15 años de experiencia práctica trabajando con tierra apisonada en el área de Los Cabos y Baja California Sur. Basados en nuestra experiencia, junto con nuevas tecnologías y respaldado por evidencia científica, y un fuerte enfoque en el control de calidad, la construcción con tierra apisonada garantiza la máxima resistencia y durabilidad de cada proyecto que construimos.
2. Low Maintenance
Rammed earth walls require almost no maintenance. Once they are built and sealed, they shouldn't need any further attention for at least 10-20 years. Until that point, exposed walls can benefit from a second coat of sealant, which is a relatively straightforward process. Rammed earth walls can be kept visible and do not need to be finished with drywall or render, either inside or outside the wall. There is no need to spend time and money painting it. However, if a client desires a different wall finish, rammed earth walls can be treated the same as other masonry walls. You can cover them applying plaster or render, and/or paint directly on its surface.
2. Bajo mantenimiento
Las paredes de tierra apisonada casi no requieren mantenimiento. Una vez que están construidos y sellados, no deberían necesitar más atención durante al menos 10-20 años. Hasta ese momento, las paredes expuestas pueden beneficiarse de una segunda capa de sellador, que es un proceso relativamente sencillo. Las paredes de tierra apisonada se pueden mantener visibles y no necesitan ser terminadas con paneles de yeso o aplanados, ya sea por su cara interior o exterior. No hay necesidad de gastar tiempo y dinero en pintura. Sin embargo, si un cliente desea un acabado de muro diferente, los muros de tierra apisonada pueden tratarse de la misma manera que otros muros de mampostería. Podemos cubrirlos aplicando paneles de yeso o aplanados, y / o pintar directamente sobre su superficie.
3. Noise Reduction
The thickness and density of rammed earth walls mean that the transmission of noise from the outside to the inside is significantly reduced. This is useful if you want to avoid traffic noise or noise between shared walls in townhomes or if you are trying to insulate yourself from your party neighbors. Acoustic insulation from external noise creates a healthy, calmer, and protected indoor environment. Internal rammed earth walls are also beneficial in providing sound insulation between areas with different needs, for example, between living and sleeping areas, or between a social or family room and a study area. Laboratory tests have indicated a sound transmission rating of over 50 decibels for a 250mm rammed earth wall. Thicker walls, like our standard 300mm walls, provide even better sound insulation.
3. Reducción de ruido
El grosor y la densidad de las paredes de tierra apisonada ocasionan que la transmisión de ruido del exterior al interior se reduce significativamente. Esto es útil si desea evitar el ruido del tráfico o el ruido entre paredes compartidas en casas adosadas o si está tratando de aislarse de sus vecinos fiesteros. El aislamiento acústico del ruido externo crea un ambiente interior sano, más tranquilo y protegido. Los muros internos de tierra apisonada también son beneficos para proporcionar aislamiento acústico entre áreas con diferentes necesidades, por ejemplo, entre las áreas de estar y dormir, o entre una sala social o familiar y un área de estudio. Las pruebas de laboratorio han indicado una clasificación de transmisión del sonido de más de 50 decibeles para un muro de tierra apisonada de 250 mm. Las paredes más gruesas, como nuestros muros estándar de 300 mm, proporcionan un aislamiento acústico aún mejor.
4. Pest proof
Common pests, like termites (a recurring problem in Baja California Sur), are not interested in rammed earth walls. Because they are a solid building mass, they also prevent other common crawler pests from generating nests within them or using them as a path between the exterior of the building and the interior.
4. A prueba de plagas

Las plagas comunes, como las termitas (un problema recurrente en Baja California Sur), no están interesadas en los muros de tierra apisonada. Debido a que son una masa sólida de construcción, también evitan que otras plagas de rastreadores comunes generen nidos dentro de ellas o las usen como un camino entre el exterior y el interior del edificio.
5. Healthy, ecological and friendly to its natural environment
Rammed earth is non-toxic, non-polluting, and a wall system that "breathes." This creates healthy, safe, and eco-friendly buildings for people and the natural environment. Rammed earth walls have very little built-in energy and are incredibly comfortable to live surrounded by them.
5. Saludable y ecológico

La tierra apisonada no es tóxica, no contamina y es un sistema de muros que "respiran". Esto crea edificios saludables, seguros y ecológicos para las personas que los habitan y el medio ambiente natural en el que se encuentran. Las paredes de tierra compactadas tienen muy poca energía incorporada y son increíblemente cómodas para vivir rodeadas de ellas..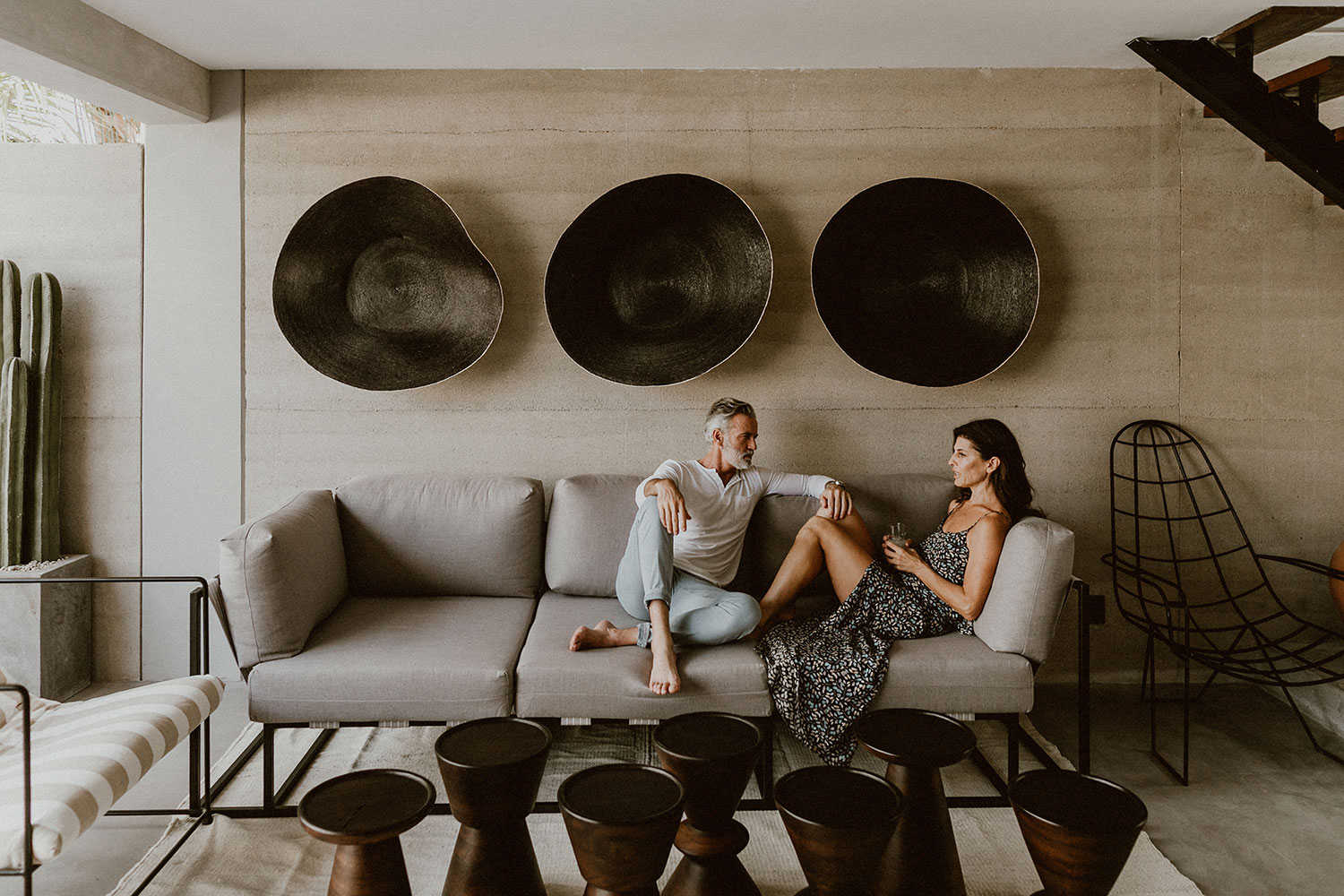 At a10 studio, we find it rewarding working with rammed earth. Besides all the proven reasons above, we love how each rammed earth house or a building reflects the terrain on which we are building it upon. Be it a clay colored earth in Los Cabos area, or a soil with subtle hints of pink in La Paz, a rammed earth building reflects its origins.
In the past, we have built sustainable rammed earth homes for people affected by Hurricane Odile, we built a rammed earth artists' residence (see the building process here), in Cuernavaca, mainland Mexico. We've designed the project for a sustainable, rammed earth boutique hotel and spa at the Tamarindos Farm, and our architectural practice a10 studio helped develop and implement the final stages of construction at Acre Villas at the Acre Resort in Los Cabos, Mexico.
For more information about our current rammed earth architectural & construction projects, or for information about helping you design and build a sustainable, rammed earth home, please email us at info@a10studio.net. We would be happy to help!
En a10 studio, nos resulta muy gratificante trabajar con tierra apisonada. Además de todas las anteriores comprobadas, nos encanta cómo cada casa o edificio de tierra apisonada refleja el terreno sobre el que lo estamos construyendo. Ya sea una tierra de color arcilla en el área de Los Cabos, o un suelo con sutiles toques de rosa en La Paz, un edificio de tierra apisonada siempre refleja sus orígenes.
En el pasado, hemos construido hogares sostenibles con tierra apisonada para las personas afectadas por el huracán Odile, construimos una residencia de artistas con tierra apisonada (vea el proceso de construcción aquí), en Cuernavaca, México continental. Hemos diseñado el proyecto para un hotel boutique y spa de tierra apisonada sostenible en la Granja Tamarindos, y nuestro estudio de arquitectura a10 ayudó a desarrollar e implementar las etapas finales de construcción en Acre Villas en el Acre Resort en Los Cabos, México.
Para obtener más información acerca de nuestros actuales proyectos de arquitectura y construcción de tierra apisonada, o para obtener información sobre cómo ayudarlo a diseñar y construir una casa de tierra apisonada sostenible, envíenos un correo electrónico a info@a10studio.net. ¡Estariamos felices de poderle ayudar!