// november 27, 2015 //
El pasado 24 de noviembre fuimos invitados a dar una plática a estudiantes de las escuelas de diseño y arquitectura de la
Universidad Mundial
en
La Paz, Baja California Sur
, dentro del marco de su
VIII Semana del Diseño, Arte y Arquitectura
.
La plática se enfocaba en temas centrales que actualmente gravitan el quehacer del estudio y que hemos tenido cada vez más presentes en la manera que concebimos la arquitectura, el título de la ponencia fue:

"País, Paisaje y Tierra Diseñada"
On November 24 we were invited to give a lecture to the design and architecture students of the Universidad Mundial in La Paz, Baja California Sur, within the framework of the VIII Week of Design, Art and Architecture.
The talk focused on central issues that currently gravitate our work and have been increasingly present in the way we conceive architecture. The title of the presentation was:
"Country, Landscape and Land Designed"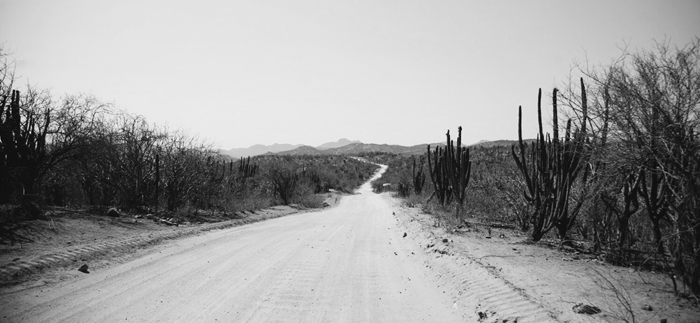 La platica giraba en torno a tres temas escenciales para nosotros hoy día:
1. El paisaje: su construcción basada en la cultura local de las regiones y su conexión con la identidad regional.
2. La luz y la tierra como materiales esenciales de la arquitectura: una disciplina artística que se percibe con los 5 sentidos: se toca, se huele, se ve, se siente, y se habla de ella. Procesos de percepción puramente sensoriales: Los espacios memorables de la historia se perciben incluso con los ojos cerrados.
3. La belleza: La belleza como artículo de primera necesidad para el ser humano (como el pan o las tortillas). Sólo en un mundo bello se puede aspirar a una vida plena. La arquitectura debe ser un medio para lograrla (la belleza y la vida plena).
The lecture talked about three essential issues for us today:
1. Landscape: its construction based on local cultures in diverse regions and their connection to regional identity.
2. Light and dirt/land as essential materials of architecture: an artistic discipline that is perceived by the 5 senses: you can touch it, smell it, see it, and even feel it, and certainly talk about it. It is a purely sensorial perception process: Memorable places in history are perceived even with eyes closed.
3. Beauty: Beauty as a basic need for humans (such as bread or tortillas). Only in a beautiful world you can aspire to live a full life. The architecture should be a means to achieve it (the beauty and fullness of life).
Estos 3 temas conectados en esta ocasión por la teoría de la relatividad de Einstein, un pequeño giño de nuestra parte a sus 100 años que se cumplen en estas fechas. Una teoría calificada como "la más bella". Y ¿que mejor que estructurar una platica sobre la belleza con una teoría científica que es considerada "bella", que habla de la comprensión de la gravedad, del movimiento de los objetos, del paso del tiempo (la mejor manera de comprenderla es con el movimiento de la luz, esencial de nuevo para la arquitectura), y de la materia, una teoría que nos dice que:
"La materia le dice al espacio cómo curvarse, el espacio le dice a la materia cómo moverse".
Sin duda agradecemos a todos aquellos involucrados en que tuviéramos la oportunidad de hablar en la Universidad Mundial, pero sobre todo a los estudiantes que con atención nos escucharon alrededor de 45 minutos explicando estos temas que para nosotros son esenciales hoy por hoy en la arquitectura y en nuestro quehacer profesional en Baja California Sur.
These 3 topics where conected this time by Einstein's relativity theory, a small wink from us to the 100th years anniversary of the theory. Qualified as "the most beautiful" theory ever. And what better to structure a talk about beauty in architecture with a scientific theory that is considered "beautiful" (let's remember the classic debate about architecture being at the same time a technical and artistic profession, science and beauty in one thing). The Theory of relativity refers to the understanding of gravity, the movement of objects, the passage of time (the best way to understand it is through the movement of light, again essential for architecture), and matter, a theory that says:
"Matter tells space how to curve, space tells matter how to move."
Certainly we are thankful to all those involved in giving us the opportunity to speak at Universidad Mundial, but especially to the students who attentively listened to us for about 45 minutes explaining these issues which are essential for us today in architecture and in our professional work in Baja California Sur.